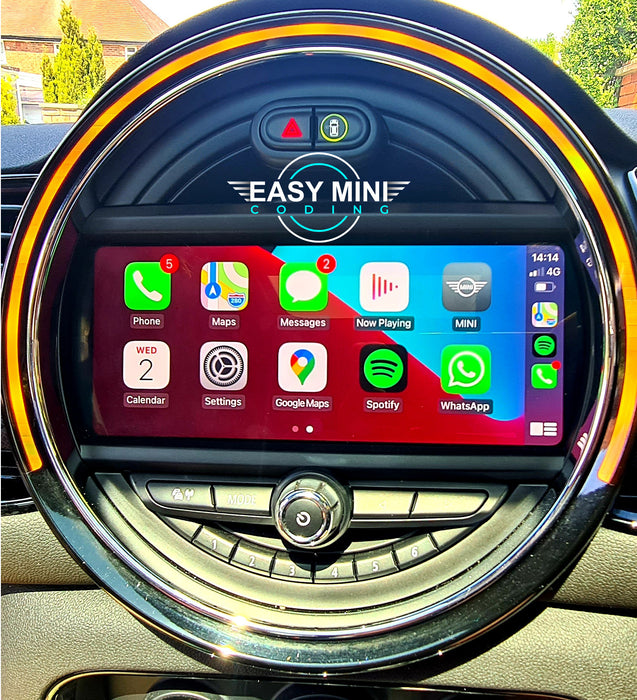 MINI Apple Carplay Fullscreen + Video In Motion + Android Screen Mirroring
Easy MINI Coding proudly offers Carplay Activation + FullScreen Activation + Video in Motion + Android Screen Mirroring for BMW/MINI vehicles equipped with NBTEVO. Simple and Seamless Solutions from a name you can trust.
 USB INSTALL PROCEDURE
For firmware versions NBTevo_H, I, J, K, L, M, N and O you can activate Carplay by USB:
The process is simple, Once we receive your order we will send a small file (Less than 1MB) to your email included with instructions. You will simply drag and drop the small file to a usb flash drive smaller than 64GB to the USB port in your vehicles arm rest. Your Navigation unit will reboot and CarPlay will be unlocked. Simple and Seamless.
 ENET CABLE INSTALL PROCEDURE
For firmware versions NBTevo_P, Q, R, S, T, U, V, W, X the instructions are below:
Please note, you will need: 

ENET coding cable (Purchase HERE )
Windows laptop  
Mac running Windows in Boot Camp or Virtual Machine
Internet Connection
Activation process description:
1) Download our Easy Coding tool.
2) Start the car and connect the cable to your laptop and car
3) Open the app. The app will ask for a unique code what is generated based on the features you have choose - the code is in your order email.
4) Type in the code followed by pressing three buttons
5) Wait ~ 2 minutes.
We can assist you if needed. 
Process takes 2 minutes and requires absolutely NO COMPUTER OR CODING SKILLS. Simply plug the cable in and enter the code.Simple and Seamless
Which Firmware Version do I Have?
To Check Firmware Version – Go to Navigation -> Press Options Button -> Go to Settings -> Go to Position & Version History -> Check Version –
Full-Screen CarPlay
Apple CarPlay looks even better in FULLSCREEN. This can be activated if your iDrive firmware starts with V, W, X.


List of compatible vehicles:
2017 - 2019 MINI's with TouchScreen
Will my phone support Apple CarPlay?
Apple CarPlay is available on any iPhone which comes with a 'lightning' charging cable. That means the following phones can use the service:
iPhone SE
iPhone 5
iPhone 5C
iPhone 5S
iPhone 6
iPhone 6 Plus
iPhone 6S
iPhone 6S Plus
iPhone 7
iPhone 7 Plus
iPhone 8
iPhone 8 Plus
iPhone X/XR
iPhone XS/XS MAX
iPhone 11/11 Pro / MAX
iPhone 12/12 Pro / MAX
Why buy from us?
Fast & Easy
USB Solution / Cable Solution (ALL FIRMWARES SUPPORTED)
Customer friendly, will respond to all your questions unlike other sellers, we provide the best support .
Lifetime Activation
After sale support.
10 Years of Coding/Retrofitting, can assist with any other Coding or Retrofits/ Map Updates.
Automatic Backup and Restore to OEM with same code. Re enable at any time with same code.